The move from English language teacher to teacher trainer involves a lot more than a new job title and different learners. There has been much discussion about who should provide teacher education and what it should consist of. One of the problems in defining a knowledge base and a set of skills for teacher educators is the enormous range of situations and types of teacher training course.
ELT teacher trainers may work in universities, in private language schools, in cultural institutes, in adult education or in state schools. The kind of courses they work on include school-teacher training, CELTAs and Deltas, one-off workshops, publisher-sponsored training, TEFL taster courses and courses of various lengths for those who are already teachers.
Apply
" It was a good course learning about new training techniques and benefiting from the experienced teachers and the tutor's comments. "

Participant - 2019
Is this course for you?
Location: Online
Experience:
Teachers who are considering moving into teacher training or who already have a little experience as a teacher trainer
Language Level: B2 or higher
Course dates:
20 September - 24 November 2021
17 January - 23 March 2022
11 April - 15 June 2022
19 September - 23 November 2022
Certification:
NILE Certificate
Course Length: 8 weeks
Course fees:
Course fee £495
Minimum age: 18
Max class size: 16
Tutor-led and highly interactive
Live and asynchronous eLearning platforms
Specialist ELT eLibrary
Accredited by AQUEDUTO
Course content
The professional discourse of teacher education
The kinds of training course they may need or wish to develop and deliver
How to adapt a partially relevant training plan to their own situation and context
How to build in variety and interest when planning training sessions
How to make appropriate choices of methods and materials for teacher workshops and seminars
Ways of motivating teachers to use self-evaluation of their teaching as a tool for development
How to choose appropriate instruments to evaluate a short course, seminar or workshop in their context
How to take appropriate steps in planning the teacher training session
The role of teacher beliefs, attitudes and behaviour when planning and delivering teacher training
Some fundamental differences between working as a teacher and working as a teacher trainer
Most new teacher trainers begin with a workshop, seminar or very short course and we will concentrate on these shorter teacher education sessions in this online course. We will introduce you to key concepts and principles in the field, provide you with practical assistance in relation to methodology and materials, provide a framework for you to reflect on your role and responsibilities as a teacher trainer within your own working context, and prepare you to make the transition from teacher to teacher trainer.
" The course is well structured and really clear. Also, Susi was always there for us and offered us a lesson in moderation. Met my expectations and is user friendly and clear. "

Vanuza - 2019
" Overall, a fun and interactive course which I really enjoyed. Susi was a very good course leader. "

Dan
Further Information
Online courses are broken down into individual units and activities, forming a clear structure. Tasks will be interactive, involving voice chat, forums and community walls, and they will utilize a range of multimedia including images, audio files and videos. Participants need a computer, a headset (with microphone) and an Internet connection. You can do much of the course on a tablet or mobile device, but will need a computer for certain activities.
All participants have access to NILE's extensive ELT e-library and the NILE digital Tasks are interactive, involving live online sessions, forums and community walls, and utilise a range of multimedia including images, audio files and videos.
All NILE's courses involve a significant element of English language improvement and/or development of language awareness.
Course Leader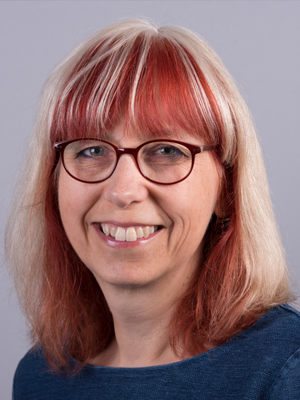 Johanna Stirling is responsible for coordinating and developing all academic aspects of NILE Online.
She teaches, trains teachers, writes materials and gives presentations about English language teaching. She has written teaching materials for Cambridge University Press and self-published Teaching Spelling to English Language Learners (British Council Award for ELT Writing – Special Commendation and nominated for an ELTon Award for Innovation in Teacher Resources).
Her professional special interests are teaching spelling, materials development, ICT and working with teachers. To find out more see her website, The English Language Garden and The Spelling Blog.
Available dates:
| | | | |
| --- | --- | --- | --- |
| Course dates | Location | Course length | |
| 20 September - 24 November 2021 | Online | 8 weeks | |
| 17 January - 23 March 2022 | Online | 8 weeks | |
| 11 April - 15 June 2022 | Online | 8 weeks | |
| 19 September - 23 November 2022 | Online | 8 weeks | |