This course is an introduction to key concepts, principles and practices in language testing and assessment, and in the broader area of course and programme evaluation. The course is designed for education professionals with a general interest in language assessment, and for those with a specific professional role in this area. You will explore approaches to design, delivery and alignment of language assessment - of language skills and underlying competences such as grammar. You will also examine alternative approaches to assessment, and implications of digital and online delivery.
Apply
" The course is filling a niche no other course fills; the course helps you approach language testing in an structured manner, helping you identify the main themes and key concepts from where you can keep on learning independently about the subject.
The tutor has top marks for her aptitude and attitude: she is competent, caring, supporting, understanding and a joy to work with. "

Itziar, March 2023
Is this course for you?
Location: Online
Experience:
Teachers involved in testing, assessment and evaluation in their professional context.
Language Level: B2
Course dates:
15 January - 20 March 2024
16 September - 20 November 2024
Course Length: 8 weeks
Course fees:
Course fee £495
Trinity CertPT qualification (optional): £325
Minimum age: 18
Max class size: 18
Tutor-led and highly interactive
Live and asynchronous eLearning platforms
Specialist ELT eLibrary
Accredited by AQUEDUTO
Course content
The key principles in the field of testing, assessment and evaluation
How to develop their skills as test designers and evaluators
How to allow for further development after the course
How to evaluate the full range of test types, assessment procedures and examinations
How to offer well-informed leadership to their colleagues and institutions in the fields of testing, evaluation and assessment
Making the testing and assessment coherent with the teaching
Testing and assessing the full range of communicative skills; profiling
Basic statistical issues in testing: item analysis and test evaluation
Critical review of exams: what should we look for in an EFL exam
Testing and assessing young learners
'Authentic' modes of assessment: self-, peer- and portfolio assessment
Testing and the new technology: the role of computers, CATs and Internet
The course will look at the key principles in evaluation in ELT: different models for different objectives; review of formative and summative purposes in testing and assessment; key issues in test design, construction and validation. Finally, we will explore how to put principles into practice: producing good tests and making them work.
" The interaction with the other participants has been particularly fun and enlightening. I am amazed at how much I've been able to take from the live sessions. "

Evelyn, March 2023
" One of the be best parts of the course was to be constantly thinking about my teaching context in connection to the contents being discussed. "

Estefania, June 2023
Further Information
NILE Online courses are highly interactive and learning takes place through varied and engaging multimedia content and the collaboration between participants from different contexts. All participants work on the same unit in the same week but there is a high level of flexibility within that time period to help you fit studying around your life and work. The interaction via forums and the other powerful digital tools built into the platform help and encourage you to share ideas, ask questions, explore concepts and build up a community.
You need a computer, a headset (with microphone) and an Internet connection. Much of the course can be done on a mobile device, but a computer is needed for certain activities and tasks.
All participants have access to NILE's extensive ELT e-library and an innovative social and cultural programme.
Meet a Course Tutor: Anna Whinnett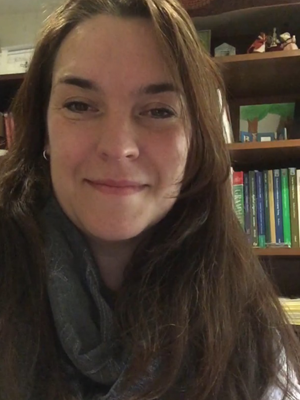 Anna is a NILE Affiliate Trainer and consultant with specific expertise in language testing and assessment and EAP. Since starting as a teacher in 1997, she has worked as a senior leader, teacher trainer and senior examiner, and has extensive experience in both face-to-face and online environments. Anna's qualifications include an MA in Language Testing, a postgraduate Dip TESOL and the LTCL Diploma TESOL. She is currently undertaking PhD research into multilingual e-assessments.
Available dates:
| | | | |
| --- | --- | --- | --- |
| Course dates | Location | Course length | |
| 15 January - 20 March 2024 | Online | 8 weeks | |
| 15 January - 20 March 2024 with Trinity CertPT | Online | 8 weeks | |
| 16 September - 20 November 2024 | Online | 8 weeks | |
| 16 September - 20 November 2024 with Trinity CertPT | Online | 8 weeks | |