In this course you will explore the key features of Academic English, looking at how to apply these to teaching and learning, course design and assessment. The course will enable you to evaluate existing materials, to adapt them to your context and to design them for your learners. Participants on the course will leave with a clearer idea of how to make their teaching more efficient and effective with less time spent on preparation, on marking and on giving feedback.
Apply
" The course was hands-on and led by highly skilled tutors in the areas of EAP. The collaborative environment supported my motivation to ask questions and to learn more. "

Kate - 2018
Is this course for you?
Location: Online
Experience: Teacher with some teaching experience.
Language Level: B2 or higher
Course dates: 11 April - 15 June 2022
Course Length: 8 weeks
Course fees:
Course fee £495
Minimum age: 18
Max class size: 16
Tutor-led and highly interactive
Live and asynchronous eLearning platforms
Specialist ELT eLibrary
Accredited by AQUEDUTO
Course content
The influence of culture on EAP
Identifying student needs and adapting to contextual constraints
Fundamentals of EAP assessment
Key features of EAP
Materials evaluation, adaptation & design
Content in the EAP classroom and designing ESAP courses
Discourse and Genre Analysis
Integrated teaching and learning
Incorporating technology into the EAP classroom
Teaching study skills
This course aims to help you to understand the key issues involved in the design and delivery of EAP and will help you not only develop skills in the practical aspects of EAP instruction, but gain critical awareness of the theory behind it.
" I know several of my coworkers have been teaching EAP without a foundation as I was. This course provides that and gives confidence to trust their practice. "

Cathryn
Further Information
Online courses are broken down into individual units and activities, forming a clear structure. Tasks will be interactive, involving voice chat, forums and community walls, and they will utilize a range of multimedia including images, audio files and videos. Participants need a computer, a headset (with microphone) and an Internet connection. You can do much of the course on a tablet or mobile device, but will need a computer for certain activities.
All participants have access to NILE's extensive ELT e-library and the NILE digital Tasks are interactive, involving live online sessions, forums and community walls, and utilise a range of multimedia including images, audio files and videos.
All NILE's courses involve a significant element of English language improvement and/or development of language awareness.
Course Leader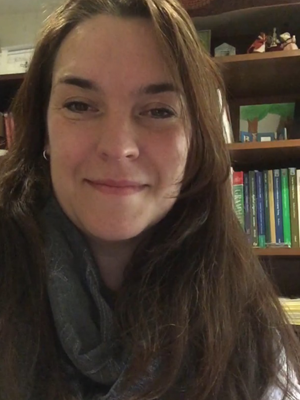 Anna is a senior examiner, teacher trainer and consultant with specific expertise in ESP and language testing and assessment. Her ELT career began as a language school EFL teacher more than 20 years ago. She has been an online tutor for almost a decade teaching and supporting international Master's students in UK higher education, and as an external examiner/ adviser she is involved in the development and quality assurance of EAP programmes in the UK and abroad.
Anna's qualifications include an MA in Language Testing a postgraduate Dip TESOL and the LTCL Diploma TESOL.
Available dates:
| | | | |
| --- | --- | --- | --- |
| Course dates | Location | Course length | |
| 11 April - 15 June 2022 | Online | 8 weeks | |