On this course you will explore the principles and practice of teaching English to young learners with a creative twist. It brings together active pedagogies, multi-sensory approaches, creativity, drama, art, literature, play and language learning.
You will find out how you can use the arts and explore your creativity in your language classes with young learners, experience learning beyond the classroom walls, gain insight into intercultural issues, work collaboratively in creative projects and improve your English language skills.
Apply
This is a brand new course for 2024 developed especially for NILE by creativity and drama experts Griselda Beacon and David Farmer, who between them have more than 50 years in teaching primary-aged children and training their teachers.
Is this course for you?
Location: Norwich
Experience:
Teachers, academic managers and trainers who work in the area of teaching languages to young learners (6 to 12-year-olds).
Language Level: B1 or higher
Course dates: 5 -16 August 2024
Certification: NILE Certificate
Course Length: 2 weeks
Course fees:
Registration fee: £175
Course fee: £1125
Accommodation (2 weeks):
Homestay (half-board): £546
Residential (half-board): £616
Residential (self-catering): £546
Minimum age: 18
Max class size: 16
Free social and cultural programme
Cross-curricular and cultural workshops
Specialist ELT Library
Complementary eLearning platform
Course content
Developing personal language awareness through art and play
Using drama techniques in the classroom
Bringing storybooks to life through storytelling, reading aloud & performance
Props, puppets, arts and crafts activities
Developing visual literacy by exploring images and picturebooks
Playing with poems and rhymes
Creative writing and self-expression
Teaching grammar outside the box
Exploring pronunciation in action through drama
Exploring sounds and rhythms with songs and circle dances
Developing intercultural awareness: Diversity and inclusion
Integrating the arts through creative lesson planning / CLIL
Formative assessment with a creative twist
This is a highly practical course which encourages you to use a creative approach throughout your teaching. Together, we will plan creative teaching sequences and build up a repertoire of creative resources. We will do this through a mix of storytelling strategies and collaborative creative responses such as dancing, singing, performing, drawing, painting and other related activities. We will work in class as learners and reflect as teachers so as to experience the process from both viewpoints.
Timetable
This course consists of 50 hours of tuition, delivered between 09:15 and 16:00, Monday - Friday. You will also take part in cross-curricular workshops on a variety of topics, and each course includes a free evening and weekend programme of social and cultural activities and trips.
Further Information
Specific course content comes from feedback you and other participants give us through pre-course questionnaires, identifying your needs and priorities.
Time will be built into the course for reflection and for you to consider how to adapt ideas from the course to your classroom in your own professional contexts.
NILE offers homestay accommodation with carefully selected hosts and residential accommodation at the University of East Anglia. NILE's dedicated student welfare team can be reached 24 hours a day.
All NILE courses involve a significant element of English language improvement and/or the development of language awareness.
Course Leaders: Griselda Beacon and David Farmer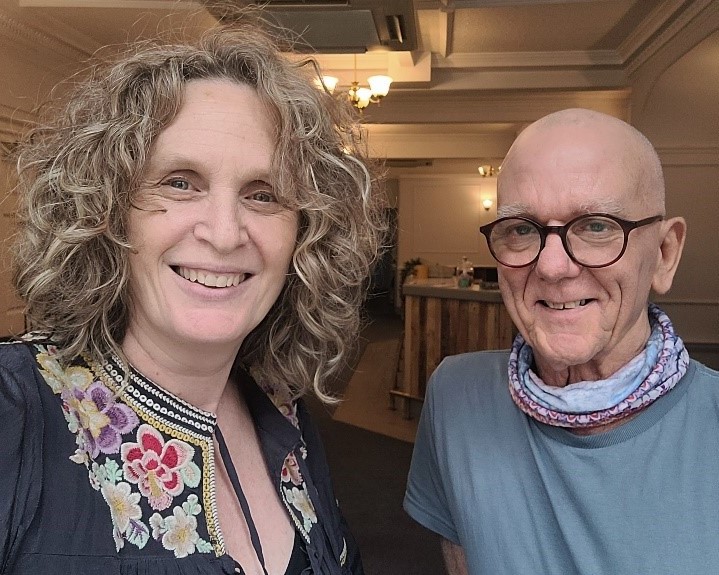 Griselda Beacon from Argentina & David Farmer from the UK are collaborating in this creative venture and share their ideas on art & language learning through the lens of intercultural and inclusive education.
Griselda joined NILE as a course tutor in 2012. She specialises in literature, creativity and art in ELT. Passionate about art in education, Griselda carries out projects with literature, storytelling, drama, visual arts and creative writing to foster self-expression and creativity in diverse and inclusive English language classrooms. Read Griselda's full bio.
David is a freelance theatre director and drama lecturer. He worked as a primary school teacher before he established Tiebreak Theatre Company in 1981, directing, writing and producing shows and workshops for children and young people across the world. Since 2005 he has worked widely as a drama consultant, published five books on educational drama and running the website www.dramaresource.com. Read David's full bio.
Available dates:
| | | | |
| --- | --- | --- | --- |
| Course dates | Location | Course length | |
| 05 - 16 August 2024 | Norwich | 2 weeks | |