This course will enable you to question and critique your existing teaching materials, practices and language use, and reflect upon how they impact the world outside the classroom. Linking critical theory with everyday classroom practice, on the course you will develop your ability to facilitate rich, engaging dialogue with your students on a range of contemporary social issues. As a course participant, you will get hands-on experience in selecting, adapting and designing teaching materials that are both contextually-appropriate and foster criticality - empowering you and your learners to become active, engaged global citizens.
Is this course for you?
Location: Norwich
Experience:
Language teachers looking to foster their own critical literacy and further integrate critical approaches into their materials and course design
Language Level: B2 or higher
Course dates: 1 - 12 August 2022
Certification: NILE Certificate
Course Length: 2 weeks
Course fees:
Registration fee: £150
Course fee: £1050
Accommodation: £476 (2 weeks)
Accommodation: Homestay & Residential
Minimum age: 18
Max class size: 16
Free social and cultural programme
Cross-curricular and cultural workshops
Specialist ELT Library
Complementary eLearning platform
Course content
Keeping up with language change: making decisions Critical pedagogy and critical literacy
Critical materials analysis (including published coursebooks and authentic texts)
Empathetic listening skills
Dialogue facilitation skills
Social justice issues in language education (e.g. racism, sexism, homophobia)
Censorship in published ELT materials and 'PARSNIP' topics (i.e. politics, alcohol, religion, sex/sexuality, nudity/narcotics, isms and pork)
Inclusive practices
Stereotyping, generalising and politically correct language use
Participatory approaches to language education and course design
Applied ethics
Timetable
This course consists of 50 hours of tuition, delivered between 09:15 and 16:00, Monday - Friday. You will also take part in cross-curricular workshops on a variety of topics, and each course includes a free evening and weekend programme of social and cultural activities and trips.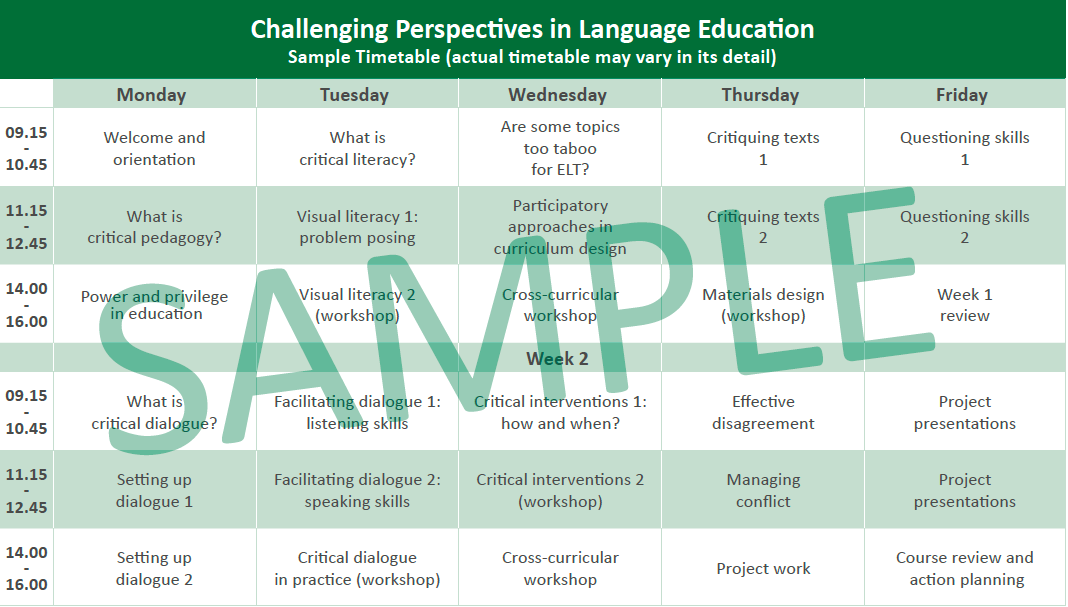 Further Information
Specific course content comes from feedback you and other participants give us through pre-course questionnaires, identifying your needs and priorities.
Time will be built into the course for reflection and for you to consider how to adapt ideas from the course to your classroom in your own professional contexts.
NILE offers homestay accommodation with carefully selected hosts and residential accommodation at the University of East Anglia. NILE's dedicated student welfare team can be reached 24 hours a day.
All NILE courses involve a significant element of English language improvement and/or the development of language awareness.
Course Leader: Rose Aylett
Rose is a freelance teacher, trainer and Celta tutor, based in Liverpool, UK. She has been working in ELT for over twelve years, predominantly across North Africa and the Middle East and is currently working towards a NILE MA in Professional Development in Language Education. Her areas of interest include materials-light teaching, creativity in teacherand the integration of global issues in the classroom. In 2017 she setup 'Pop-up Teacher Training' and she now delivers training at conferences and teacher development events worldwide.
Available dates:
| | | | |
| --- | --- | --- | --- |
| Course dates | Location | Course length | |
| 01 - 12 August 2022 | Norwich | 2 weeks | |