This course is for teachers of English working with very young learners, children from 3 to 6 years old. In most cases they will be in pre-primary education.
Throughout the course, you will reflect on how language-related activities develop the whole child, socially, emotionally, cognitively, physically and in terms of communication and creative development.
Apply
" Very well presented and easy to navigate online course. I good mix of theory and practical allowed those on the course to share ideas and thoughts on the information provided. "

Participant - 2019
Is this course for you?
Location: Online
Experience: Teachers or assistants in a pre-primary setting (up to 6 years of age)
Language Level: B1 or higher
Course dates:
17 January - 23 March 2022
11 April - 15 June 2022
19 September - 23 November 2022
Course Length: 8 weeks
Course fees:
Course fee £495
Trinity Registration and Administration Fee (optional): £250
Minimum age: 18
Max class size: 16
Tutor-led and highly interactive
Live and asynchronous eLearning platforms
Specialist ELT eLibrary
Accredited by AQUEDUTO
Course content
Extending critical understanding of how small children learn
Developing the whole child through English
Managing small children
Planning sequenced, well-balanced lessons
Integrating music, song, rhyme and rhythm into the pre-primary classroom
The role stories play in language learning
Mathematical concepts as an integral part of an activity
Different approaches to record keeping and understanding progression
How to create a unit of work for a pre-primary English class
The course will cover the principles of early childhood language education and child development theories and good practice in pre-primary, or kindergarten, contexts, and will explore the areas of using music, song, rhyme and rhythm, stories, and mathematical concepts through English.
" I really enjoyed this course and I'm going to miss our webinars and tasks every week. I got used to checking and commenting every week. A special thanks to our tutor Eva who has been very supportive and understanding. "

Participant - 2019
" I've done online courses before; modules of the distance DELTA, MOOCs etc. with different organisations and I think this Nile course compares very favourable. "

Darren - 2019
Further Information
Online courses are broken down into individual units and activities, forming a clear structure. Tasks will be interactive, involving voice chat, forums and community walls, and they will utilize a range of multimedia including images, audio files and videos. Participants need a computer, a headset (with microphone) and an Internet connection. You can do much of the course on a tablet or mobile device, but will need a computer for certain activities.
All participants have access to NILE's extensive ELT e-library and the NILE digital Tasks are interactive, involving live online sessions, forums and community walls, and utilise a range of multimedia including images, audio files and videos.
All NILE's courses involve a significant element of English language improvement and/or development of language awareness.
Course Leader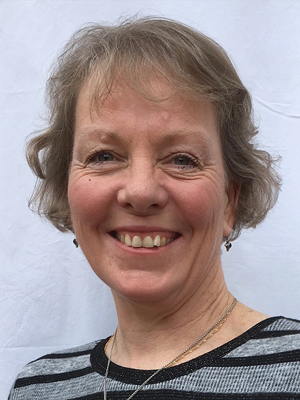 Sandie and has been teacher educator, author and consultant specialising in early years language education since 2000. Her main focus is pre-primary (ages 3 - 6 years) and primary (6 to 10 years) learners. Sandie has an MA in TESOL and a PhD in didactics and teacher education. Both her MA dissertation and PhD thesis involved research in pre-primary contexts. Her research interests include the intercultural domain in language education, play and language learning, approaches to assessment, teacher education for multilingual spaces and reflective practices.
Sandie's other passion is picturebooks, a form of children's literature, which uses both picture and word to create meaning.
Available dates:
| | | | |
| --- | --- | --- | --- |
| Course dates | Location | Course length | |
| 17 January - 23 March 2022 | Online | 8 weeks | |
| 17 January - 23 March 2022 with Trinity CertPT | Online | 8 weeks | |
| 11 April - 15 June 2022 | Online | 8 weeks | |
| 11 April - 15 June 2022 with Trinity CertPT | Online | 8 weeks | |
| 19 September - 23 November 2022 | Online | 8 weeks | |
| 19 September - 23 November 2022 with Trinity CertPT | Online | 8 weeks | |