This module will raise your awareness of the possibilities and challenges offered by digital technologies both now and over the next five years. The course aims to equip you with the academic, technical and practical skills to use technology to optimum benefit in your classroom.
This module carries 30 credits.
Apply
" A very useful course which made me aware of the different kinds of tools and websites which I had never considered using before. Well organised and very interactive. "

Davina - 2018
Is this course for you?
Location: Online
Experience: Degree. language teaching experience
Language Level: B2/C1 or higher
Course dates: 11 April - 15 June 2022
Certification:
Postgraduate Certificate, Diploma or MA awarded by University of Chichester
Course Length: 8 weeks (+ 1 week break)
Course fees: £1150
Minimum age: 18
Max class size: 16
Tutor-led and highly interactive
Live and asynchronous eLearning platforms
Specialist ELT eLibrary
Accredited by AQUEDUTO
Course content
The essentials of Web 2.0 and the significance of cloud computing
The possibilities and challenges offered by digital technologies in language education both now and in the foreseeable future
How ICT in ELT is compatible with current learning theories
How to evaluate choices available in the use of ICT in language education
How to use technology in a learning/teaching environment
How to use the Internet for such purposes as research, professional development, and administrative purposes
How to use the Internet for creating learning opportunities for students in collaborative situations, for creative work, for developing learner autonomy
Assessment (written after completion of the course and supervised at distance by tutors):
A portfolio (50%) containing TWO of the following four options:
A website which provides resources for an aspect of ICT in English language teaching and learning.
A webquest.
A lesson or lessons making use of handheld or mobile devices.
A technology-driven international student exchange project.
A main assignment (50%) consisting of a 3,000–word article for a professional journal on the use of technology in a specified learning/ teaching environment.
" It was exactly was I was looking for, or it even surpassed my expectations. "

Tatiana - 2019
" I appreciated the back to basics introductions to all of the topics and didn't expect to get quite this much out of an online course. It worked far better online than I had thought it would and the level of interaction and exchange of ideas was initially fabulous. "

Jasmin - 2019
Further Information
Online courses are broken down into individual units and activities, forming a clear structure. Tasks will be interactive, involving voice chat, forums and community walls, and they will utilize a range of multimedia including images, audio files and videos. Participants need a computer, a headset (with microphone) and an Internet connection. You can do much of the course on a tablet or mobile device, but will need a computer for certain activities.
All participants have access to NILE's extensive ELT e-library and the NILE digital Tasks are interactive, involving live online sessions, forums and community walls, and utilise a range of multimedia including images, audio files and videos.
All NILE's courses involve a significant element of English language improvement and/or development of language awareness.
Course Leader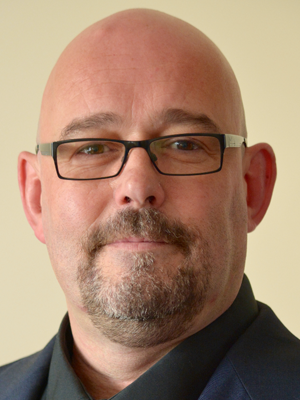 Gavin has worked in education for the past 24 years, as a teacher, materials developer, IT manager and web/user interface designer and his blend of pedagogical and technical skills has taken him around the world for a variety of organisations helping them to bridge the gap between their training and teaching portfolio and their technical needs.
His company TheConsultants-E, set up with Nicky Hockly works primarily in online teacher development and training and their Cert ICT course won a British Council ELTON in 2007. Among their other courses they also offer the only online Cert IBET course.
Available dates:
| | | | |
| --- | --- | --- | --- |
| Course dates | Location | Course length | |
| 11 April - 15 June 2022 | Online | 8 weeks | |